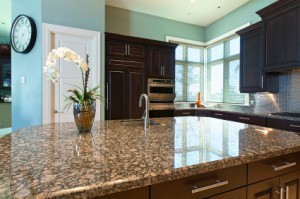 Floor & Design offers a wide variety of kitchen countertops to choose from, including your natural products like granite, quartz and marble as well as your corian and laminate countertops like Silestone, Cambria, and CaesarStone. While it may seem overwhelming with our wide selection, our kitchen design consultants are here to help you figure out not only what is the most functional product for your home, but more importantly, what looks the best.
The beauty of granite is endless.  It's a look that can not be matched by any man-made product.  Not only is granite a functional product for most every home, it is also very low maintenance. granite countertops can be cleaned with almost any household cleaner, have hot pots and pans placed directly on their surface, and even be used as a cutting board. Granite is known for its natural variation, that is why we offer our clients the ability to view their slabs prior to installation. This allows you to have complete control over the product that goes into your kitchen.
The ease of synthetic countertop products might be something that you appreciate. With no yearly maintenance, products like Silestone offer a sense of comfort to some. When the natural variations of granite might be to much for you, the similar and more uniform synthetic products (laminate  and corian) might be the perfect compromise to achieve the look that you desire with the functionality that you need. Whichever countertop is your favorite, Floor & Design can help with every aspect of installation so your kitchen becomes as perfect as you want it to be!